Lexus Book Drive 2020 – Let's Drive Literacy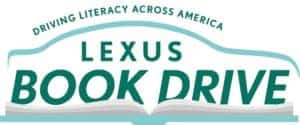 Let's drive literacy together!
For two weeks leading up to Read Across America Day (March 2nd), 

Lexus of Atlantic City is proud to be one of the many Lexus dealerships that are coming together to be part of the amazing Lexus Book Drive event. We invite you to participate in the event with us and ask that you donate new or gently used books for 0-7 year-old children in our local community.

          If you wish to participate please bring your donations to the Lexus of Atlantic City sales showroom where there will be donation boxes set up for your convenience. 

If you would like to help donate but do not have access to books please feel free to make a cash donation! We will take all cash donations to a local shop and purchase books to donate! 

The Lexus Book Drive event begins on February 17 and runs through March 2nd so please don't delay bringing your donations to the dealership!